The Body Shape Guide
•
Posted on November 09 2020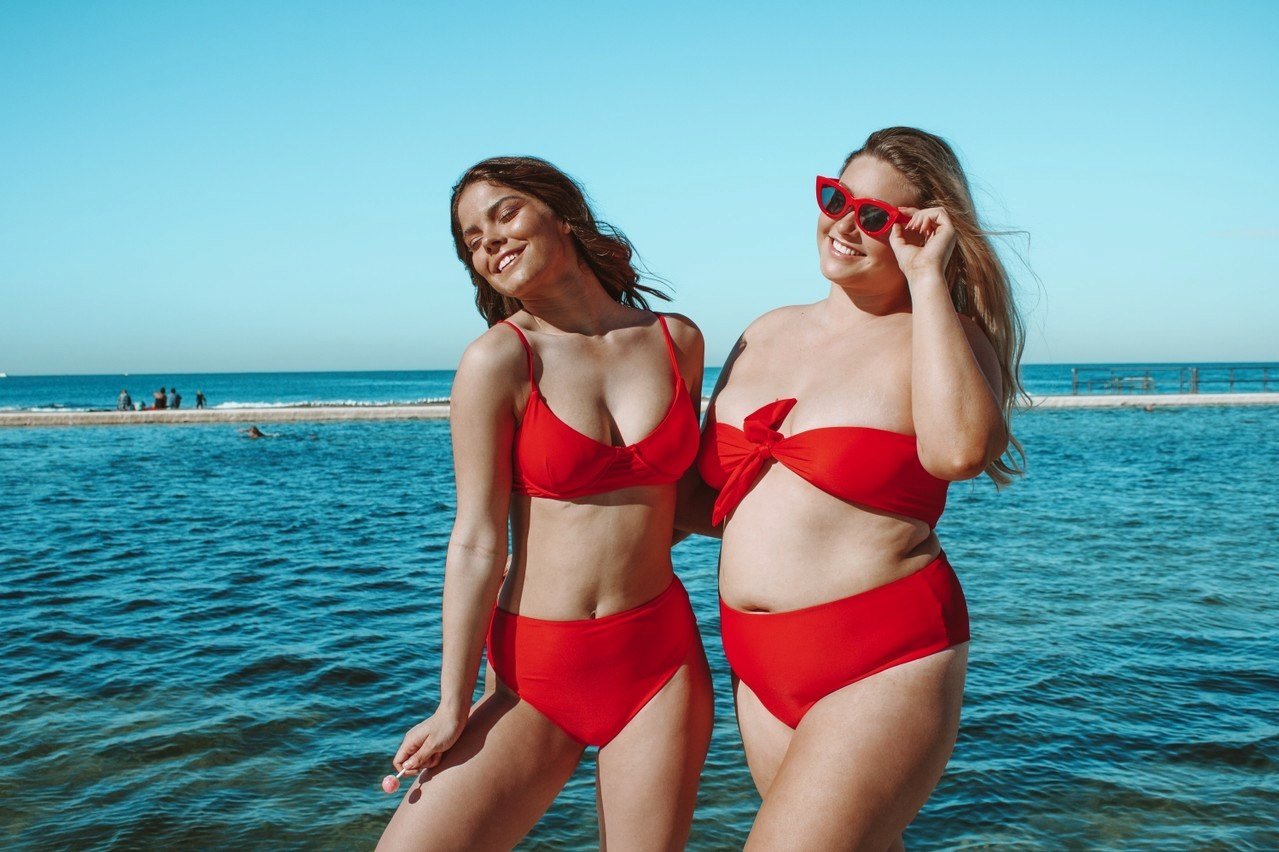 We get it; shopping online for a bikini can be intimidating. With so many styles and cuts, it's difficult to envision which Pinkcolada bikini will look best on your body. Choosing a swim set that makes you feel beautiful, supported, and flawless is all about embracing what you love about your figure. Don't get caught in a panic when the sun and swimsuits come out. Here are our insider tips on how to choose the best bikini for your body type: 
Understanding the "Classic" Shapes 
Apples, pears, and hourglasses. Though not everybody fits cleanly into these well-known body shapes, understanding the basic anatomy behind each can help you make an informed buying decision. 
Pear Shape 
Ladies with pear shapes boast delicate narrow shoulders and slim waists that blend into wide hips and round out with an enviable curvy bum. Beauties Jennifer Lopez and Beyonce are famous examples of the pear shape. As we all know, there's no such thing as a perfect body, but there are lots of tips and tricks to ensure you make the most of your stunning pear shape. 
How to Choose 
Since pear shapes tend to be bottom-heavy, the trick to choosing flattering swimwear is getting the upper and lower body proportions to look balanced. Most pear-shaped women prefer to add more curves and volume around their bust, narrow the waist, and draw eyes away from the hips to achieve this look. If you wish to pull off a more balanced bikini look, consider these options: 
Tankini Time 
When choosing a sexy one-piece swimsuit, pear shapes run the risk of choosing something too tight around the bottom or too loose on top. To avoid troubleshooting, go for a tankini. However, if you're more comfortable in a one-piece, there are options. Look for designs with eye-catching details up top and coverage below. 
Mix and Match 
Bikini shopping should be fun! Unleash your inner stylist by pairing a plain Pink Colada bottom with your favorite patterned top. This will achieve a sense of visual balance that flatters your pear shape. As a bonus, color blocking will never go out of style! 
Go Retro 
Elongate your legs with vintage-style high-cut or high-waisted bikini bottoms. These will emphasize the curve of your waist and add length to your whole frame. If you're a fan of your trendy round bottom, go cheeky or even thong for optimal lengthening potential. If you want more coverage, check out our sarongs and cover-ups. 

Shop cover-ups
Apple Shape 
Our apple-shaped girls have slim shoulders and hips with fuller chests and midsections on top of a pair of gorgeous lean legs. Apple shapes lend a lot of potential to showcase their standout features in swimwear. Take style notes from famously beautiful apple shapes like Drew Barrymore and Tyra Banks. 
How to Choose 
To give a better sense of visual balance, apples aim to focus attention on their shapely breasts and runway legs while enhancing the natural curve of their hips and waist. 
Become a Master of Illusion 
Swimsuits with ruching or ruffles on the hips or the middle are your friend. These details work wonders at creating a cinch-waist look. Hot tip: go for high cut bottoms to show off those slim hips and legs. 
Show Some Support 
If you're self-conscious about your middle body, a shaping swimsuit, like a high-waisted bikini, or one with subtle support will give you coverage and lift to keep you feeling confident and comfortable. 
Go Retro 
Apple-shaped ladies look stunning in bikinis that draw inspiration from the '50s. Halter tops and high-waisted bottoms in vintage prints are often show-stopping on an apple shape! 
Hourglass Shape 
The hourglass figure has been revered for centuries as the peak of femininity. Hourglasses are spotted by their evenly proportioned bust and hips on top of a slim, defined waist. Take note that you don't have to be a curve queen like Kim Kardashian or Marilyn Monroe to be an hourglass. You can still have this body type even if you're slim. 
How to Choose 
If you're an hourglass, proportionally speaking, you have the 'perfect' bikini body– have some fun with it. 
Support your Breasts
If you're a big-busted hourglass, that string bikini might not be the safest option for sunbathing. To feel supported and comfortable all day long, go for tops with underwriting or adjustable straps to give your girls a lift. 
Welcome the Classics
Lucky for you, the classic iconic bikini cuts were made for your body type. A classic bikini with a lingerie-style top looks enviably balanced on an hourglass. However, classic doesn't have to mean boring. Pink Colada has a range of bra-style bikinis in exciting patterns. 
Take a Plunge 
Take a risk in a sexy modern one-piece or monokini with a plunging neckline and high-cut hips. To really show off that figure, a cut-out monokini is sure to get all eyes on you. 
Athletic Shape 
The straight-up-and-down body is often indicative of a strong and goddess-like athletic frame. Balance is easy to achieve with a bikini on an athletic body shape. With little size variance between the shoulders, waist, and hips, you have the perfect canvas to experiment with the trendy beachwear. Take style inspiration from 90's 'It Girls' like Jennifer Aniston and Cameron Diaz. 
How to Choose 
When trying to achieve balance on your athletic shape with the right bikini, the key is to give the appearance of narrowed shoulders while enhancing the natural curve of your muscular butt. You can do this by adhering to the athletic body bikini bible: plunging necklines, cheeky bottoms, and high-cut legs. 
Create Curves
Add volumes to your hips and chest with bold prints and bright colors. For something a bit modern, try a trendy asymmetrical one-piece or bikini top. The cut-outs will create some beautiful curves. 
Have a Little Fun 
A small perky bust means you can get away with little support and can have fun playing with all sorts of barely-there bikini tops. Try our Bonita top or a bandeau for something different. 
Show it Off 
You probably work hard for that athletic frame. Show it off with skimpy tie-side bottoms and thongs. 
Carrot Shape 
The 'inverted triangle' body shape has a new name. Carrot body shapes have long lean legs, narrow hips, and a full bust supported by broad, beautiful shoulders. Choosing the best swimwear for your carrot shape is all about balance. 
How to Choose 
Carrots have a proportionally large upper body. A broad back and big bust are all carrot-shape assets. If you're a carrot, chances are your hips are slim, and your butt may have a tendency toward being a bit flat. To balance out your top and bottom, look for styles with wider straps and straight cut bottoms. 
Stripes and Patterns 
Horizontal stripes are flattering for carrot shapes by giving the illusion of wider hips. However, if you do decide to get stripey, make sure you choose a matching set or a solid top with a striped bottom. Patterned tops with solid bottoms will emphasize the proportional difference between your top and bottom. 
Boost the Booty 
If the Kardashian era has you feeling a bit self-conscious of your smaller backside, you can remedy this with ruches and frills to give your booty some volume. Opt for bottoms in eye-catching colors and loud prints to distract from a less luscious tush. Also, if you're feeling cheeky, choosing a barely-there option can help further the illusion. 
Treasure the Chest 
Carrot shapes are blessed with a full, feminine chest. If this applies to you, shop for halter shapes or bikini tops with underwiring for the support and coverage you need to feel your best. Remember, confidence is the best trick to turning heads in a bikini no matter your body type. 
Find the Perfect Bikini for Your Body Type 
We hope we've put an end to the fear and frustration that comes with online bikini shopping. The Pink Colada team knows that having endless swimwear options can be overwhelming without guidance. If you're still lost after exploring our guide, we encourage you to follow our Instagram to see how our bikinis look on real women of all different shapes and sizes. 
Our customer support team is also here to answer any questions you may have about sizing and fit. 
Every Body Is a Bikini Body 
We would like to issue a reminder that though this guide is intended to help you pick the most flattering swimwear for your shape, it is by no means the end-all bikini bible! 
Women's bodies are gorgeously varied, and we invite you to embrace that. 
You know your body better than anyone. Even if our body guide suggests that a full coverage top is best for you, if you feel radiant in a string bikini, then go for the string bikini. 
Pink Colada is confident that no matter your shape, we have a bikini set that you'll feel good about wearing. Shop our swimwear collection now!